Please stroll down or click HERE for our current challenge # 26 Anything But A Card
Well this is what you have all been waiting for.  Let's see who is joining the other DT sisters at VSC.
We are so pleased and happy to announce that Irene from Irene's Crafty Corner has agreed to join our happy little band as the last of our newest DT members.
Here is a short bio to introduce her:
Hi, my names Irene.
I'm married and a Mum to two grown up boys and a crazy Border Terrier.  Started papercrafting about 15 years ago and love nothing better than spending the day in my little craftroom playing with stamps, inks, paints, paper and anything mixed media.
So happy to have been invited to be part of the VSC design team.
Today we are showcasing this delicious and very beautiful picture frame which Irene has made as her debut piece for the current challenge.
She stamped the images, which you can find
here
,
then painted using Distress inks, Victorian Velvet, Peeled Paint, Brushed Corduroy & Fired Brick.  The main stamped image and quote were edged with Antique linen Distress stain.
The machine stitched border draws your eye to the brown card which was adhered to corrugated cardboard before being distressed with walnut stain.  Creative expressions metal corners were used as extra embellishment.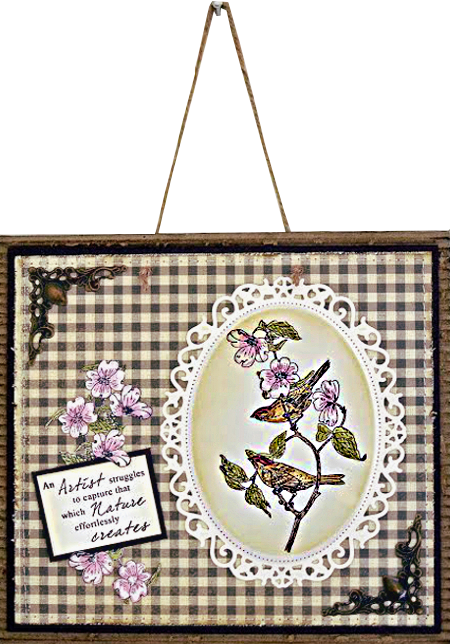 How clever is this, Irene has put an easel stand on the back so that it can be displayed on a dresser.
I am sure you all want to congratulate Irene yourselves so it would be fabulous if you hopped on over to her blog, left her some love and also saw all her other beautiful makes.